Saturday, March 16, 2019
Fider 0.18 has been released with attachments and better SEO
#1: Image Attachments
This is the third version in a row that we have delivered our most wanted feature, which in this version was Image Attachments on Posts and Comments 🎉
This new feature that allows users to upload up to 3 images when submitting a new post or comment.
Staff members still have full control over the post/comment and can delete or replace any uploaded image.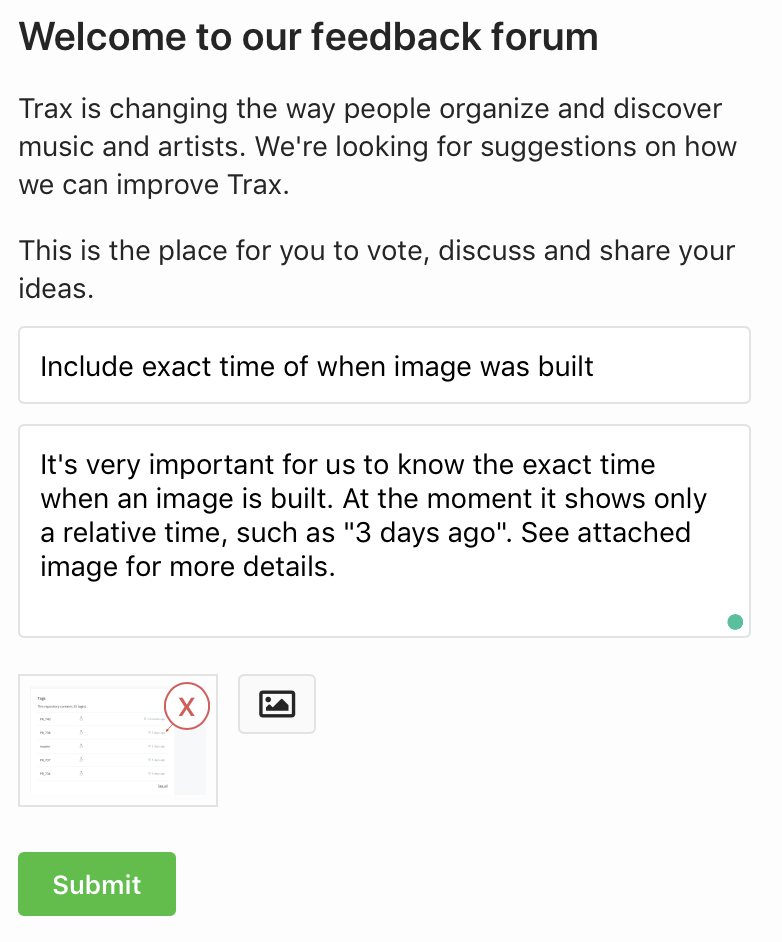 #2: Better SEO (experimental)
For those who are new to Fider, it's important to know that Fider is a client-side rendered application built with React. When a Search Engine like Google or Bing fetches a page served by Fider, they get minimal HTML content, some JSON metadata and some JavaScript files that render the page based on the metadata.
Some engines have a lower priority when indexing pages that are client-side rendered, which can affect the SEO ranking.
Dynamic rendering is a process of serving different contents based on request. The idea is that a SEO crawler would get receive a server-side rendered result because that's what they prefer, while an end user browser would still perform the rendering client-side. For more details on Dynamic rendering, visit https://developers.google.com/search/docs/guides/dynamic-rendering
Because SEO is an important aspect for Fider, we've decided to improve this area by creating an open source prerender service called Rendergun. This new release of Fider has a native integration with Rendergun, but is not yet documented. We'll update our documtation page once this has been tested and is stable enough.
If you're self-hosting a Fider instance and would like to experiment this as well, please get in touch with us contact@fider.io.
Other Changes on Fider 0.18
What's next?
Help us shape the future of Fider. Visit our feedback forum and raise your voice. Tell us what to do next.